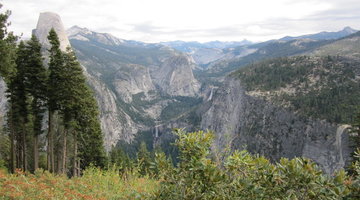 Panorama Trail
Distance: 8.5 miles, one-way
Elevation gain: 3,700ft with Sentinel Dome; 3,400ft without
Difficulty: Difficult
Best time of year: Whenever Glacier Point Rd is open, typically mid-May through early November. Waterfalls are best in spring and early summer.
What would you say if we gave you a downhill hike that includes Glacier Point and the Mist Trail -- plus Panorama Point, Illilouette Falls, and views of Half Dome and Yosemite Falls? But yes, there is a catch -- there are 800ft of switchbacks after Illilouette Falls, as well as a lot of stone steps between Nevada and Vernal Falls. If can handle those two small obstacles, you're golden.